There are cases, when our users upload a new release of Store Manager and face a situation, that their antivirus software blocks the application and doesn't allow to continue the downloading process due to security reasons. As antivirus programs are developed for protection from computer threats in general, they are carefully scanning the incoming files and preventing from their access to the system and causing harm to your PC.
Since every release of Store Manager software contains new improvements and enhancements that lead to the code changes and new functionality, antivirus program does not recognize the application and correspondingly, restricts further download.
We have gathered most widespread antivirus software types and network security system with ways to add Store Manager in their exclusion list to avoid inconveniences with the next application downloads:
Now, let's take a closer look at each of them and the settings that have to be configured.
1. Launch Avast user interface and go to Settings =====> General ======> Exclusions.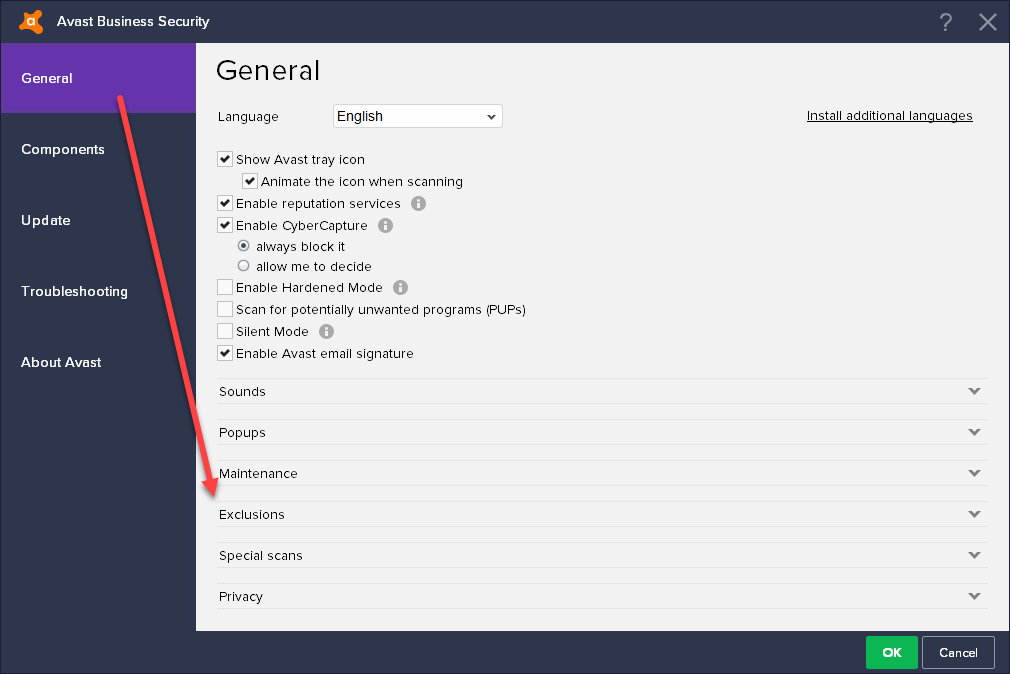 2. Indicate the path, where the Store Manager is located -
C:\Program Files (x86)\eMagicOne\Store Manager for ...\*
Note:This is a default path where Store Manager is saved when you choose the Quick Installation option during the first application setup. If you have selected the Custom Installation and specified the different folder, then you should indicate the path where the software is located on your PC.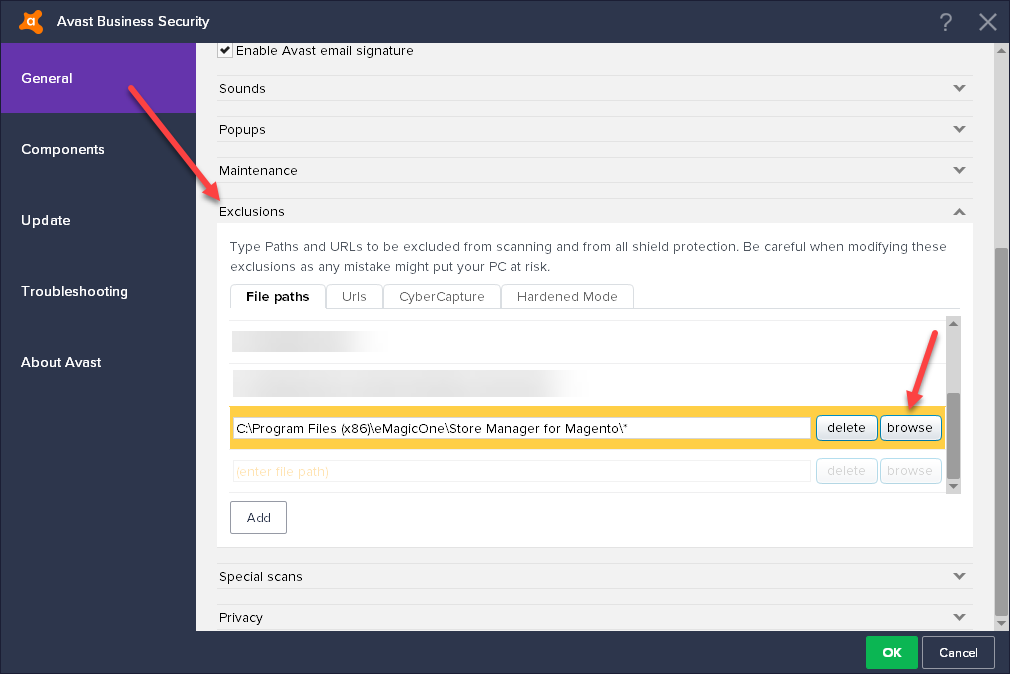 3. Press OK to finish the exception configuration.
To exclude the folder with Store Manager from being scanned by this antivirus software, proceed with the following steps:
1. Open the Bitdefender window and choose the Settings button on the upper toolbar.
2. In the Settings Overview window, select Antivirus section.
3. In the Antivirus Settings window, go to the Exclusions tab.
4. Click on the List of files and folders excluded from scanning and press the Add button.
5. Select Both among the three available options (on-demand scanning, on-access scanning and both). Click Browse and select the folder that you want to be excluded from scanning - C:\Program Files (x86)\eMagicOne\Store Manager for ...\*.
6. Click Add to save the applied changes.
1. Open 360 Total Security program.
2. Go to the Settings button in the top right corner of the program.
3. In the appeared window, on the left pane, select Trust List option.
4. After that, navigate to Add Directory option and specify C:\Program Files (x86)\eMagicOne\Store Manager for ...\*.
5. Press OK to save changes.
1. Open Norton Security antivirus software.
2. Go to Settings tab in the upper right corner.
3. From the opened window, choose Antivirus option.
4. After that, select <>emScans and Risks tab and find Exclusions/Low Risks section.
There you will have the following options at disposal: Items to Exclude from Scans and Items to Exclude from Auto-Protect, SONAR and Download Intelligence and Detection options.
6. Click Configure [+] button in front of each one, select the folder with Store Manager and hit OK to apply the changes.
1. Open McAfee antivirus software.
2. On the right pane, select Navigation tab.
3. In the opened window, scroll down and click on the Real-Time Scanning link.
4. Go to Excluded Files section and press Add File button.
5. Add Store Manager file (by the following path sample - C:\Program Files (x86)\eMagicOne\Store Manager for ...\*)
1. Open ESET antivirus program.
2. Go to Setup tab and choose Computer Protection section.
3. Click the settings icon in front of Real-time file system protection and select Edit exclusions… from the drop-down.
4. In the Add exclusion window, press browse button for Path.
5. Select the directory Store Manager is saved in (C:\Program Files (x86)\eMagicOne\Store Manager for ...\*) and after, hit OK and Save to apply changes.
Temporarily disable Windows Firewall/Windows Defender Firewall
1. Open Control Panel on your PC.
2. Proceed to System and Security section in the opened window.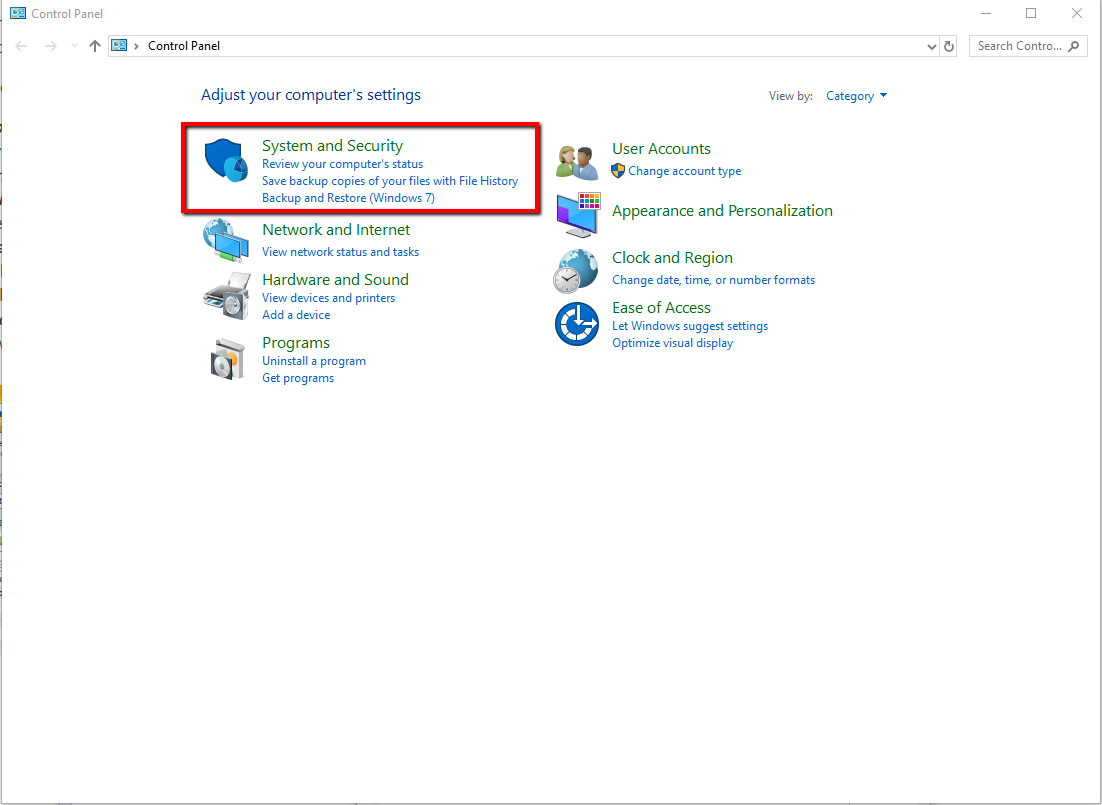 3. Go to Windows Defender Firewall tab and select the Check Firewall status option.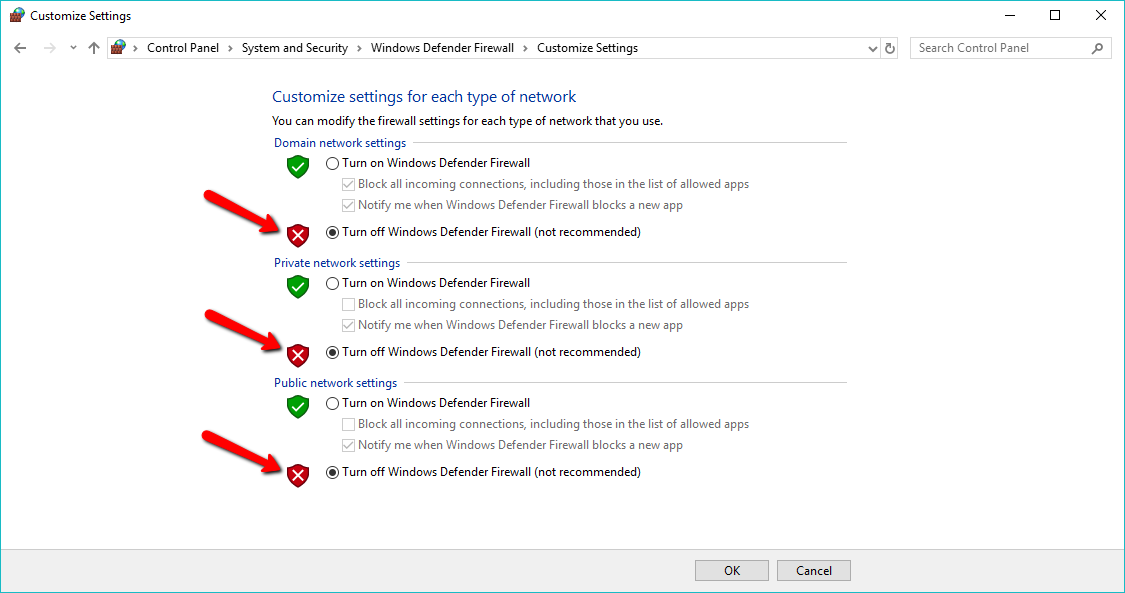 4. On the left side of the screen, select Turn Windows Firewall on or off.
5. Customize settings for each type of network settings to "off" and hit OK to finish.
Note: Once Store Manager is downloaded, do not forget to turn on the Windows Firewall back.